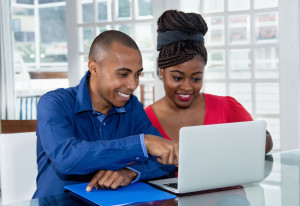 When you buy a home, there is a specific amount of money you will need to pay to secure the house. The rest of the cost of the house can be divided into monthly payments using a home loan. The following is how you can figure out how much cash you'll need when you use an FHA loan to buy a house.
About the FHA Loan
The FHA loan is the easiest loan to qualify for because you can have less than perfect credit and the down payment requirements are the lowest.
You will need to work with your lending institution to find out if you qualify for this type of loan. However, if you are approved, you can expect to pay about 3.5% of a house's sales price.
How to Figure Out Your Down Payment Amount
The amount of cash you need for a down payment all depends on the cost of the house. If the house is $200,000, you will need to pay 3.5% of it, which is about $7,000.
This amount does not cover other costs, such as closing costs. This can be about $4,000 for a home of this value.
Depending on your savings, you will have to seek a home that falls within what you can afford. If you can't pay $7,000, you may need to purchase a home that is $100,000. This down payment would be about $3,500 without factoring in closing costs.
Getting Your Finances Ready When Purchasing a Home
Once you save enough money for a down payment, you will also need to save money for at least two months of mortgage payments. This means that if your mortgage is $1,000, you will need at least another $2,000 in your bank account to cover your mortgage in case anything were to happen to you financially.
Other costs have to do with a home appraisal and closing costs. A home appraisal can cost anywhere from $400 to $600. You need to pay for it. It cannot be rolled into the loan.
Closing costs are usually about 2% to 5% of the house's sales price. The good news is that this can be rolled into the loan. For an FHA mortgage, you can roll in up to 6% of the home's value into the loan for closing costs.
Starting the Process of Buying a Home
All you need to do to start the process of buying a home is to meet with a lending institution to figure out how much you can afford. Once you know the home price range you need to stay in, you can start looking for a home. Using a real estate agent or realtor can help you find a house that has what you're looking for while staying within what you can afford as far as down payment and other fees.